Hanuman Yantra
Hanuman Yantra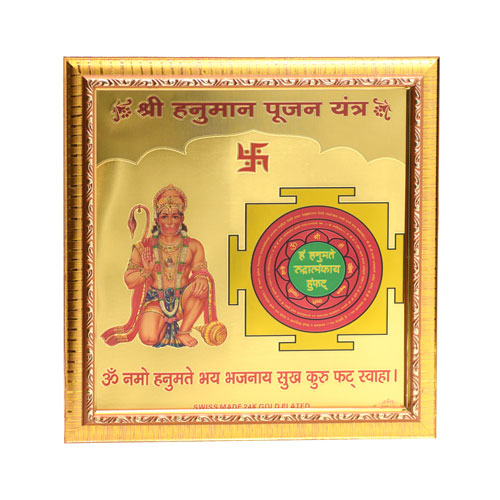 40%
off
Price: US $7.69 /INR Rs. 500
Sale Price:
US $4.62 /INR Rs. 300
You Save:
US $3.08 /INR Rs. 200 (40%)
Hanuman Yantra is used to appease Lord Hanuman and to ward off the evil effect of a malefic Mars in ones Horoscope. It is also used for business purpose as worshipping this can bring profit in trade. Lord Hanuman is the symbol of strength, power and tact. During the worship of this yantra the sadhak should lead a pure life, remain a barahmachari and worship the Yantra continuously for 40 days without a break. Generally a Hanuman Yantra is worshipped using sindoor, long, supari and beetal leaves that yield success in whatever works you wish as per traditional Vedic texts. Many keep a fast on every Tuesday after starting the Pooja of Hanuman Yantra . Our Hanuman Yantra is energized by a process known as Pran Pratishta. This is done by reciting the Vedic mantras. One also gets details about the mantra to be enchanted and the method of worshipping using Hanuman Yantra.
AstroSage is largest online shopping store of astrology and spiritual products. Shop online on our astrology store and get original products in best price.
Free Personalized Horoscope 2017
AstroSage Magazine